I believe a lot of friends when you install CorelDRAW X8 will encounter such a case, the installation is successful open software, pop-up prompt saying "CorelDRAW X8 (64-bit) has stopped working.".The same X8 installation package, measured on a different computer problem and some do not, and some will be more prompt.After the system requirements ruled out the possibility factors and conflicting versions of CorelDRAW X8, we can determine the cause of the basic system environment, the original IE is the default browser version is too low.Xiao Bian paper on this issue, tidy, share the same experience to stop working when you install CorelDRAW X8 friends want to help you.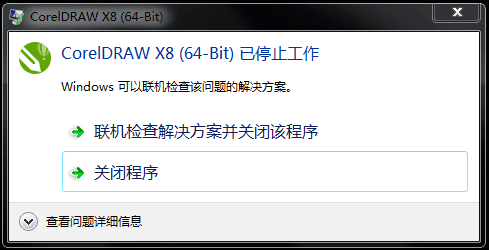 Installation system requirements CorelDRAW X8.
  ? 32-bit or 64-bit Windows 7, Windows 8.1 or Windows 10 (install new updates and Service Pack);
  ? Intel Core i3 / 5/7 or AMD Athlon 64;
  ? 2 GB RAM;
  ? 1 GB of hard disk space;
  ? Multi-touch screen, a mouse or a tablet;
  ? Screen resolution of 1280 x 720, scaling 100% (96 dpi);
  ? Microsoft Internet Explorer version 11 or higher;
  ? Microsoft .NET Framework 4.6;
  ? DVD drive (required for installation of boxed software, hardware version);
  ? Internet connection is required to sign in to verify CorelDRAW Graphics Suite, reception performance and stability updates, and access online features, and the use of QR codes, Content Exchange and other functions.
  In CorelDRAW X8 installation requirements, we are able to meet most of the requirements (.NET Framework 4.6 will automatically pop-up prompt when you install CorelDRAW X8 software and install it yourself).With the exception of Internet Explorer 11 might easily overlook (now using IE users are less and less, so a lot of people do not care about their computer versions of IE).win10 comes with IE11, this can be ignored, but win the previous version 10 is not with Internet Explorer 11, you need to upgrade their own.Then download Internet Explorer 11 upgrade package, after installation is complete, run CorelDRAW, (sometimes when you install the software you will be prompted to update the IE browser to version 11 or higher) finally no longer pop "Coreldraw x8 stop work" a window.Internet Explorer 11 Download: Download.

  In fact, not only CorelDRAW X8, X7 / X6 If you encounter a situation requires the installation of non-compliance, will also appear stopped working.So, install CorelDRAW friends, if you have the wrong software installation appears to stop working.So what you try to upgrade the Internet Explorer 11 bar!